Estonia is full of secrets.
Museums and history books will tell you the official stories but the real secrets are hidden below this superficial surface.
I'm talking, of course, about the captivating world of urban exploration.
Abandoned buildings are utterly absorbing. The peeling paint; the eerie silence; the rhythmic creaking of the floorboards; the heightened senses.
The ghosts; the stillness; the memory.
Even the relentless passage of time has not erased the secrets. Seek and ye shall find. Urban decay is an important part of Estonia. It is a purer, un-editted form of historical exploration
Ready to explore? Then let's uncover some mysteries.
---
#1. Patarei Prison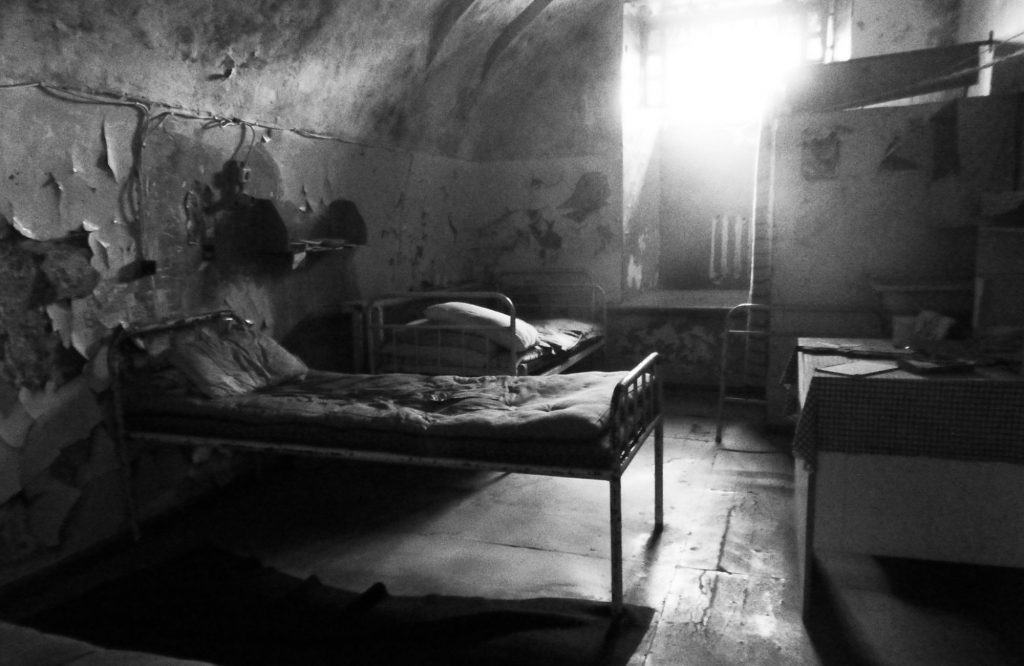 What is it? A sea fortress that was used as a notorious Soviet prison. A fortification "not fit for humans".
Where? Kalaranna Suur-Patarei 28
Getting in: Patarei has been closed to the public for several years but a small wing of the prison has recently been re-opened. It functions as a museum dedicated to the memory of Patarei and a reminder of the horrors of Communism.
Check out the Hidden Tallinn archives for the full story and photos from inside the walls of Patarei.
Dangers: Ghosts of former inmates
---
#2. Telliskivi Water Tower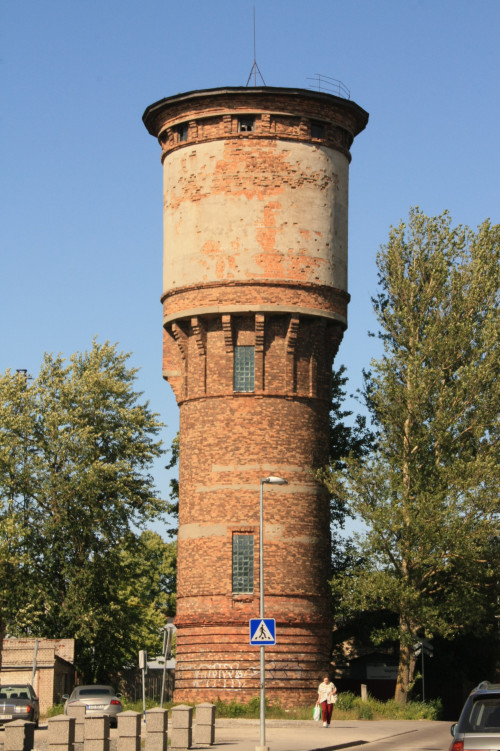 What is it? An abandoned Water Tower (here's the full story)
Where? Telliskivi 59
Getting in: When I went to visit there was a semi-circular space just above the door. It required a bit of climbing but passers-by didn't seem to mind…
Dangers: Look out for a deep hole in the ground right by the entrance. I wouldn't want to fall down there! Otherwise, the tower is structurally sound.
The spirit of Bruce Lee haunts this tower: "Be like water, my friend"
---
#3. Hara Submarine Base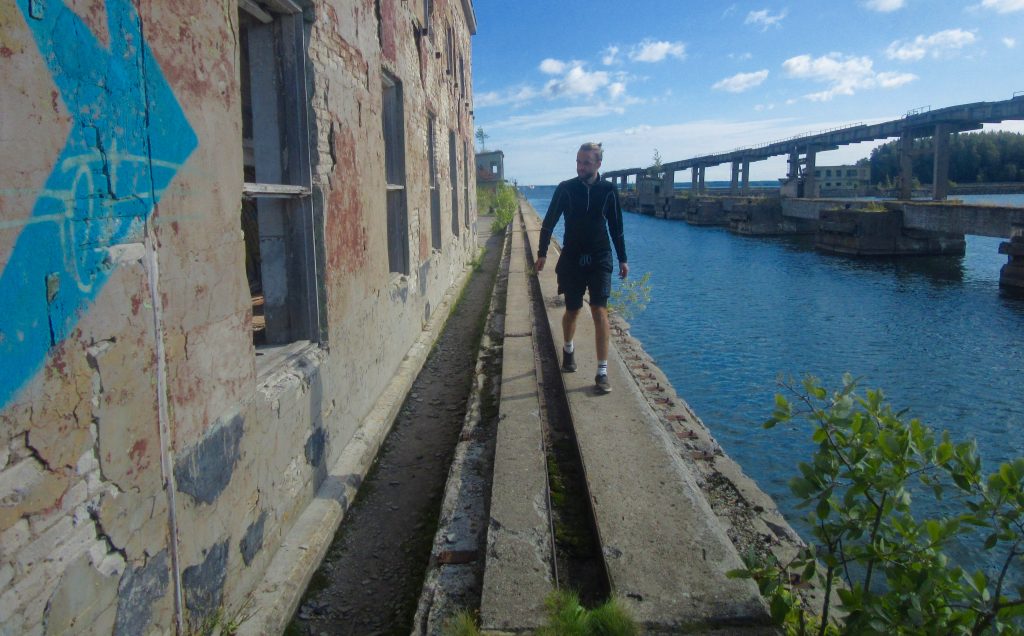 What is it? The skeleton of a decommissioned Soviet submarine base (here's the full story)
Where? Hara, Lahemaa National Park (65km from the Old Town)
Getting there: I cycled there from London, but you definitely don't have to do that! Having your own transport does help though so for convenience I would recommend a car. Otherwise it is possible to cycle there from Tallinn and maybe find a campsite in Lahemaa for the night.
Bus Number 154 will also get you there – check out the route here.
Fancy joining a tour instead? Check out Tallinn Traveller Tours
Dangers: Look out for human-sized holes! There are a few bolts and pipes that will try to trip you up but the swans will leave you alone.
---
#4. Volta Factory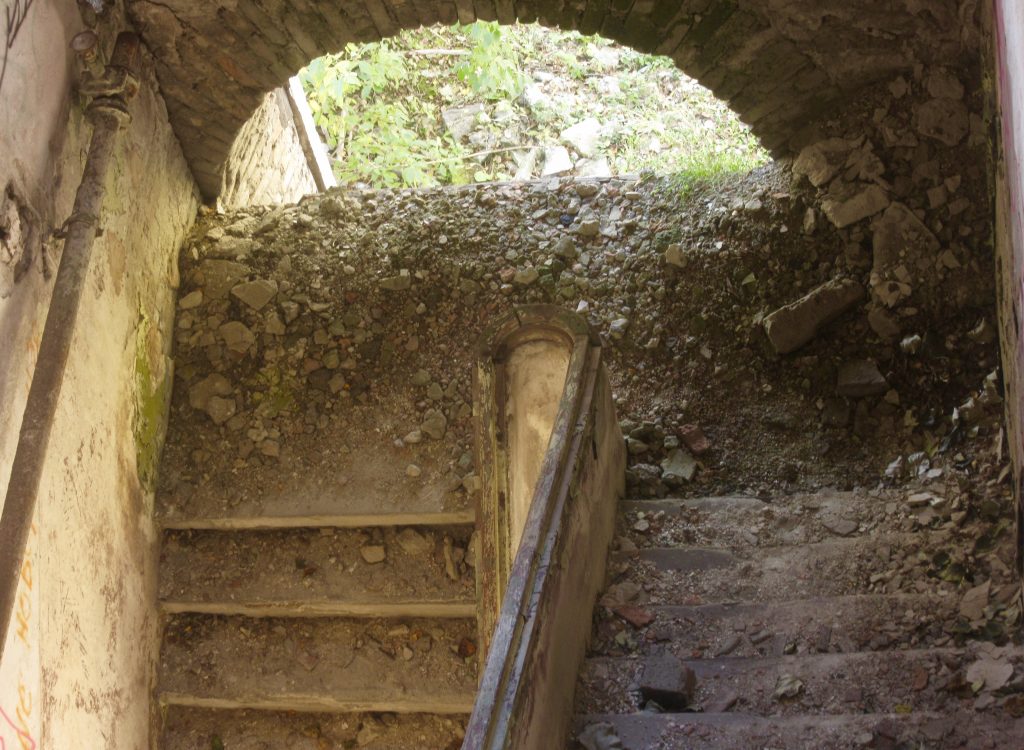 What is it? Abandoned electrical generator factory, full of trees (here's the full story)
Where? Tööstuse 47
Getting in: Go during the day, ideally a week day. There is an automatic electric gate that closes all by itself in the evening but during the day it is kept open because there are businesses operating around this factory. When the workers go home, the gate closes.
I got caught out once and had to use all my ninja skills to escape!
Dangers: Be careful on the roof. There are huge gaps between the concrete panels where the glass roof used to be. Keep away from the edge!
---
#5. Kopli Lines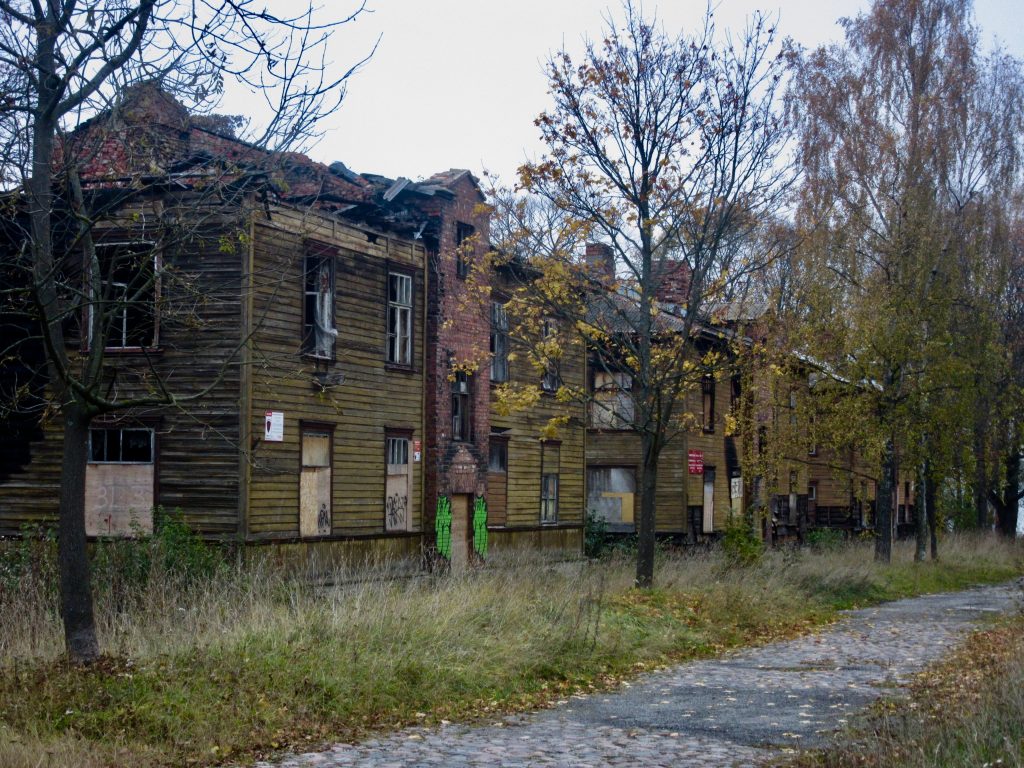 What is it? Abandoned village. Communal housing for workers of the Russo-Baltic factory in the early 20th century (here's the full story)
Where? 5km north of Tallinn City Centre
Getting in: Many of the buildings here have open doors or smashed windows to crawl through, however I wouldn't advise going inside. The beauty of Kopli Lines is in the atmosphere and the decaying aesthetics of these old wooden houses. The buildings themselves are structurally unstable and may contain – how do I put this – unfavourable inhabitants.
Dangers: Probably the most dangerous on the list (although I have been to the Lines on multiple occasions and had no trouble. Unfortunately, Kopli's wretched reputation precedes it).
Avoid the interior of the most dilapidated and fire-damaged buildings. There may be unsavoury characters inside. To be sure, take a friend with you (probably not a good spot for a date though!)
---
#6. Linnahall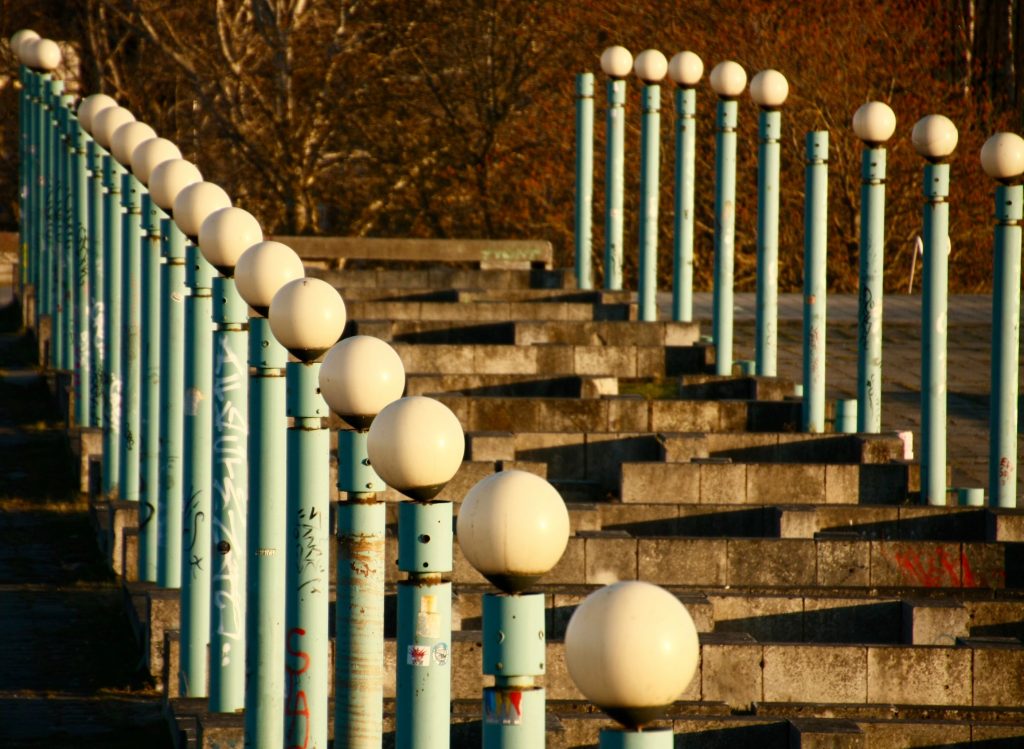 What is it? 5,000-seat amphitheatre built for the 1980 Moscow Olympics. Now the music has stopped and Linnahal lies dormant on the coast of the Baltic Sea.
Where? Mere puiestee 20B
Getting in: Even Spiderman would struggle to sneak into this heavy boarded-up fortress. Never fear though, Linnahall will not let you down. Her unsightly, rectangular grandeur straddles the line between 'eyesore' and 'intriguing beauty'.
Take a wander around the outside, peer in through the windows, discover the abandoned car park, and climb the steps for a cracking view of the sunset.
Dangers: Try to climb in and you may become impaled on barbed wire or find yourself bouncing off the concrete below. Stick to the exterior and there are no dangers. (Winter wanderers beware: the steps can be slippery in the snow!)
---
#7. Noblessner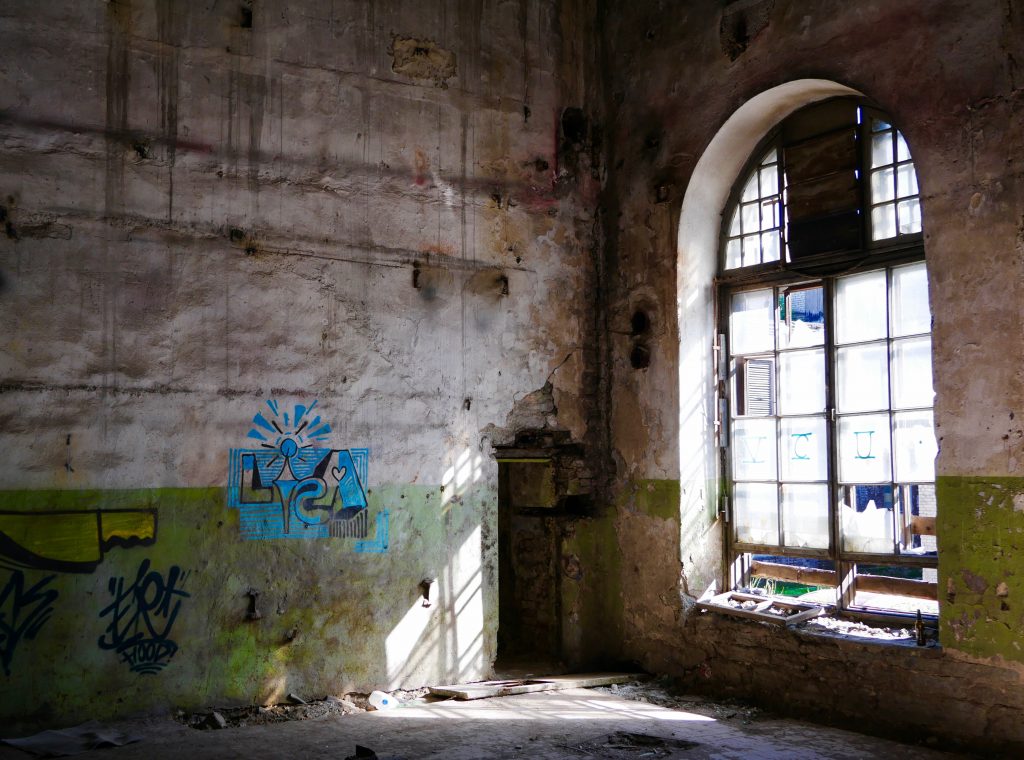 What is it? Huge factory complex and port dedicated to submarine building during World War One.
Where? Tööstuse 48
Getting in: Couldn't be easier. There is one factory building with wide open window spaces. Easy to climb in. Some of the buildings have already been developed while others are tightly locked. Explore the whole complex and you will find some exciting urbex opportunities.
Dangers: the only danger here is forgetting to bring your camera!
---
#8. Riisipere Mansion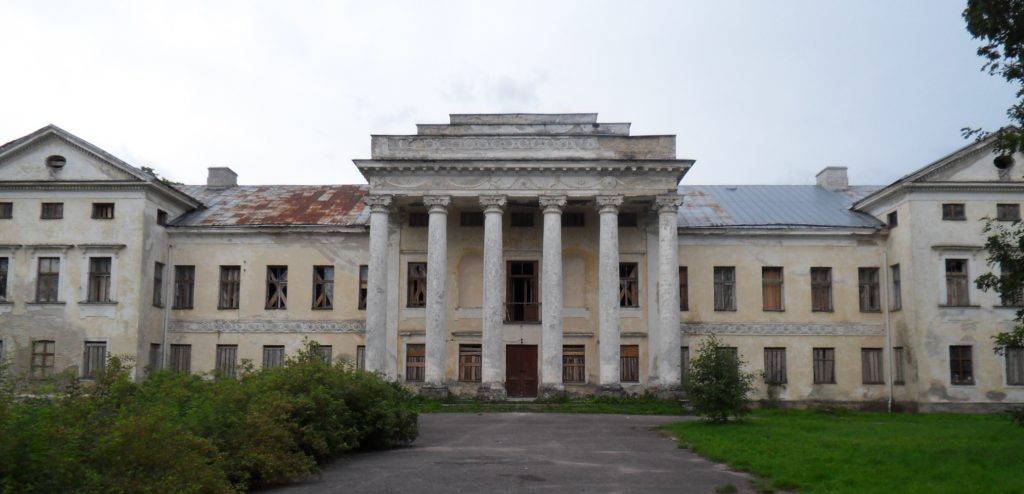 What is it? Huge abandoned manor house; built between 1818 and 1821 by Peter von Stackelberg (cool name, no idea who he is).
Where is it? Vilumäe, 76212 Harju County
Getting there: There is a direct train from Balti Jaam to Riisipere. It's a 2km walk from there.
Getting in: Impossible to visit now due to renovations; just goes to shows how you shouldn't wait to visit these abandoned places. Once these places become the target for re-development the urbex opportunity will disappear. I am trying to find out the future of Riisipere mansion and will post an update once I have the full story.
In the meantime, check out the terrifying tale of my visit back in 2011: