I'd like to invite you on a post-Soviet Tallinn adventure. Come on an alternative virtual tour through a decade of extreme changes, witness the scale of gentrification and re-live a lost world.
---
Post-Soviet Tallinn
Many moons ago, in the ancient times of 2011, this city had all the classic hallmarks of a post-Soviet city. Abandoned industrial spaces, old Soviet market places and expanses of concrete wasteland spread across the city.
For us travellers, post-Soviet Tallinn was a fascinating time-capsule; a window to a world we had never seen before. For city officials, however, this did not fit the 21st century image of e-Estonia: tech innovator and honorary member of the Nordic family.
Consequently, the last ten years have been an era of monumental transformation. Tallinn is undergoing one of the biggest face-lifts in its history. The scale and speed of these developments are staggering as city planners seem desperate to shake off the visual reminders of Soviet times as quickly as possible.
Great news for property developers, hipsters and fans of shiny generic buildings, but what about us? How can history nerds and travellers still get their post-Soviet fix?
Well, Tallinn may not be as Soviet as it once was but it is still possible to explore the old streets of this lost world… virtually. After discovering the time travel feature on Google Maps I was excited to take my own personal trip down memory lane.
The following images are my attempt to give you a flavour of that virtual time travel adventure from post-Soviet Tallinn to the present day.
---
A note to post-Soviet explorers: never fear! Soviet secrets are still out there, for those who know where to look.
---
Noblessner and Kalaranna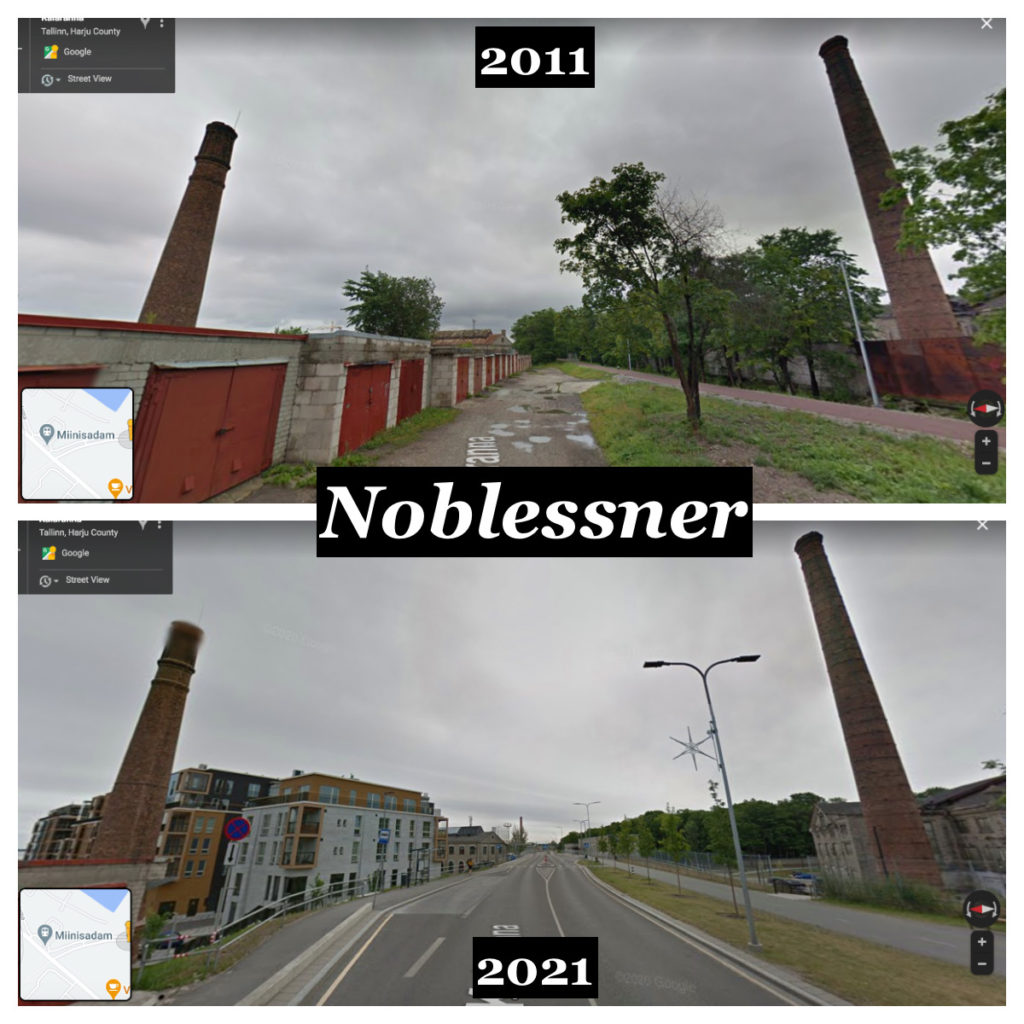 Noblessner was a former submarine shipyard with giant hangar buildings, workshops and a power station. Today it is mostly gentrified, with one abandoned factory building remaining.
In the middle of the last decade, Kalaranna was transformed from a narrow gravel path (previously a railway line) into a two-lane road and cycle lane.
Google Street View: Kalaranna (2011)
---
Balti Jaaama Turg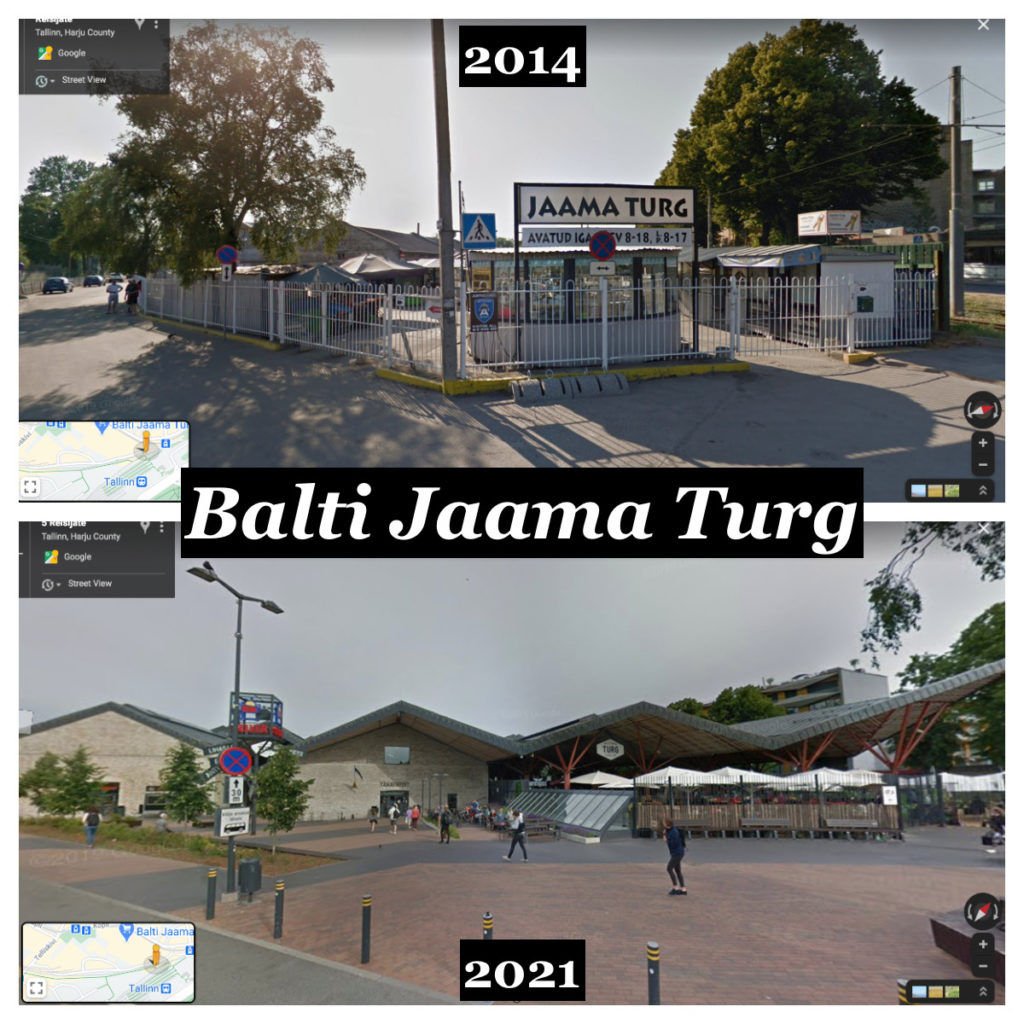 In 2014, a visit to the market next to Balti Jaam was like a trip back to the Soviet Union. Babushkas selling potatoes and dill, antique stores and giant halls filled with meat, fish and dairy. The market (and the culture that accompanied it) was demolished shortly after 2014 and this new structure was built.
Google Street View: Balti Jaam (2014)
---
Depoo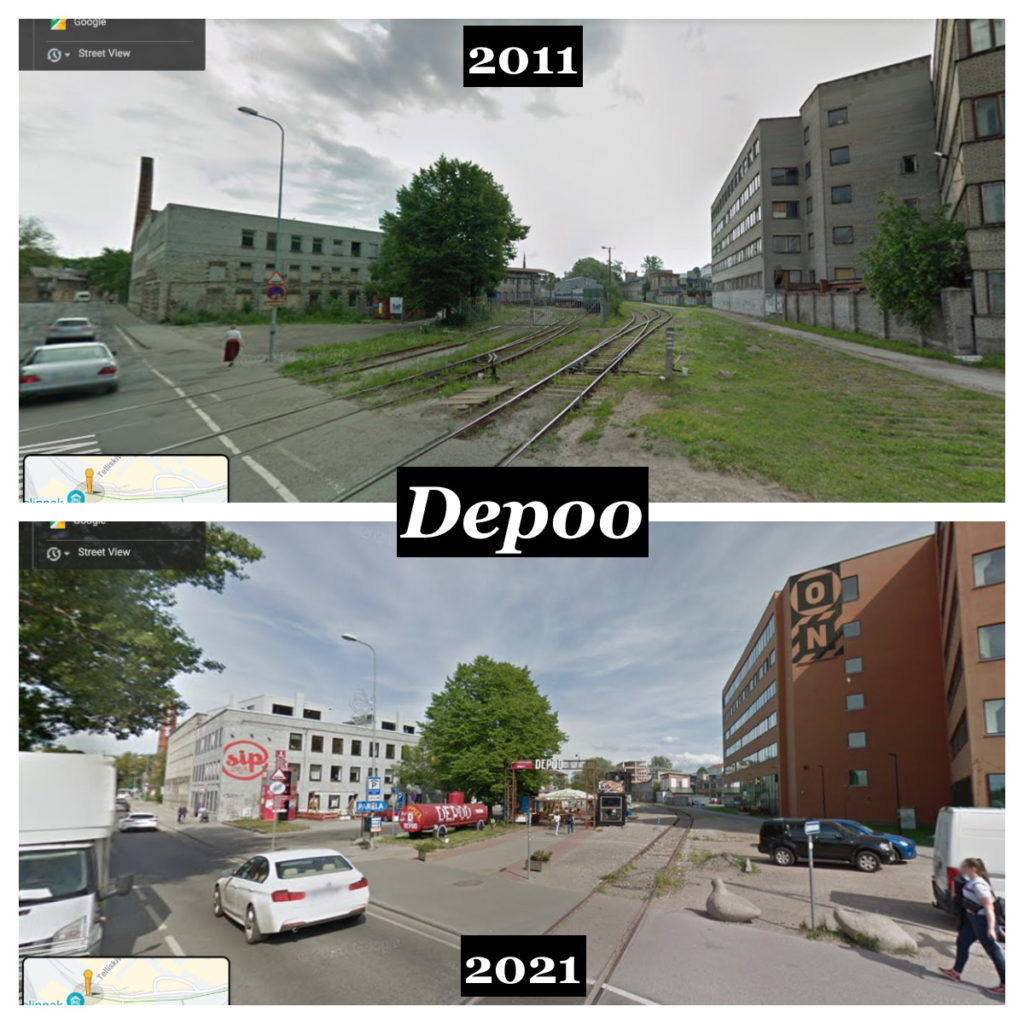 The old train depo that links Balti Jaam and Telliskivi is a feature that I really miss. In post-Soviet Tallinn many of the factories in Kalamaja and Kopli had closed down so this area was no longer needed. Today it is home to shipping containers selling street food and a few other local businesses. The rail tracks have been removed.
Google Street View: Telliskivi (2011)
---
Reidi Tee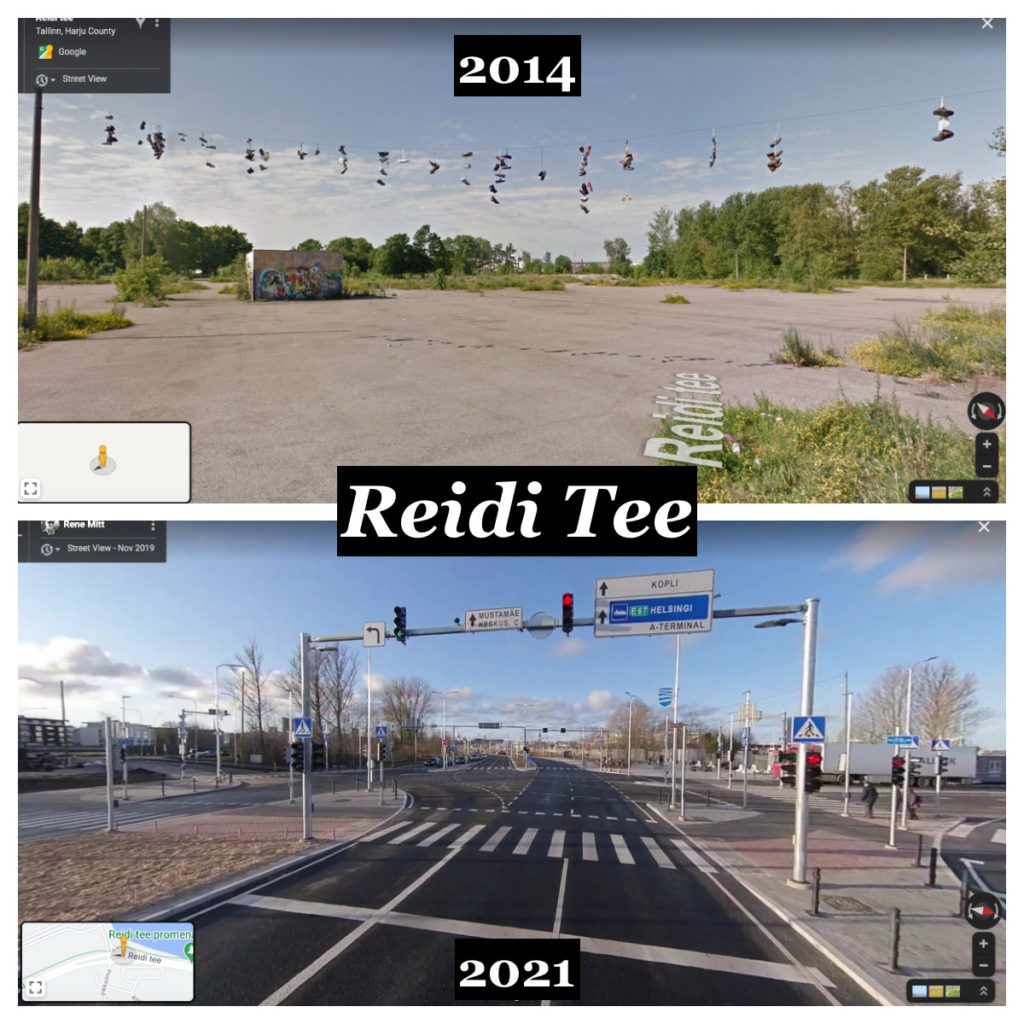 One of the newest roads in Tallinn. This huge construction project was the equivalent of taking a map, drawing a straight line from the port to Old Town, writing Reidi Tee underneath it and saying "build".
Areas of concrete wasteland, lorry parks and tiny disused roads were bulldozed and in their place a new main road, pedestrian area, outdoor gym and cycle lane was built.
Google Street View: Reidi Tee (2014)
---
Kopli Lines
During the late 1990's and early 2000's Kopli Lines was a slum area in Northern Tallinn. As well its infamous reputation for crime, drug abuse and house fires, Kopli Lines was also an abandoned ghost town and a fascinating time capsule. Check out my Instagram a short story on the forgotten families of Kopli Lines.
Today, this area has been gentrified and new residents have moved in.
Google Street View: Kopli Lines (2011)
---
T1 Mall of Tallinn
The construction of T1 Mall surprised a lot of locals. Tallinn is full of shopping malls and the idea of building another one right next to an already existing mall seemed like a joke when I first heard it.
However, the rumours were true and here we are in 2021 with yet another giant semi-abandoned shopping mall.
Google Street View: Peterburi Tee (2011)
---