Icy pavements, daily snowfall and sub-zero temperatures: it's true, Estonia does not seem like the ideal country in which to ride a bicycle in winter.
The insurmountable strength of the human spirit has overcome many obstacles throughout recorded history and we share the same inner toughness as the heroic people that came before us. Therefore, within this spirit of inscrutable belief, I declare to you:
It is possible to cycle in an Estonian winter… and have a great time doing so.
Still unconvinced? Well, read on, my friends. Read on.
Why ride?
The biggest and perhaps most profound question to ask yourself when contemplating winter cycling is: why on Earth would I do that?
A very good question. Allow me to suggest some answers:
Adventure – it's not every day that you get to cycle in such extreme temperatures. Embrace the challenge and think of the great story that you will be able to share with your friends afterwards. Go on, be a hero!
Absurdity – truly memorable experiences come from attempting something crazy. Cycling in the Baltic winter definitely ticks that 'crazy' box.
Adrenaline – the tingling sensation of the fresh winter air, the legs pumping and the knowledge that you are doing something interesting and different. All are tried and tested ways to make you feel alive.
Riding a cool bike – we'll get to that
It's not that cold – if you have the right gear…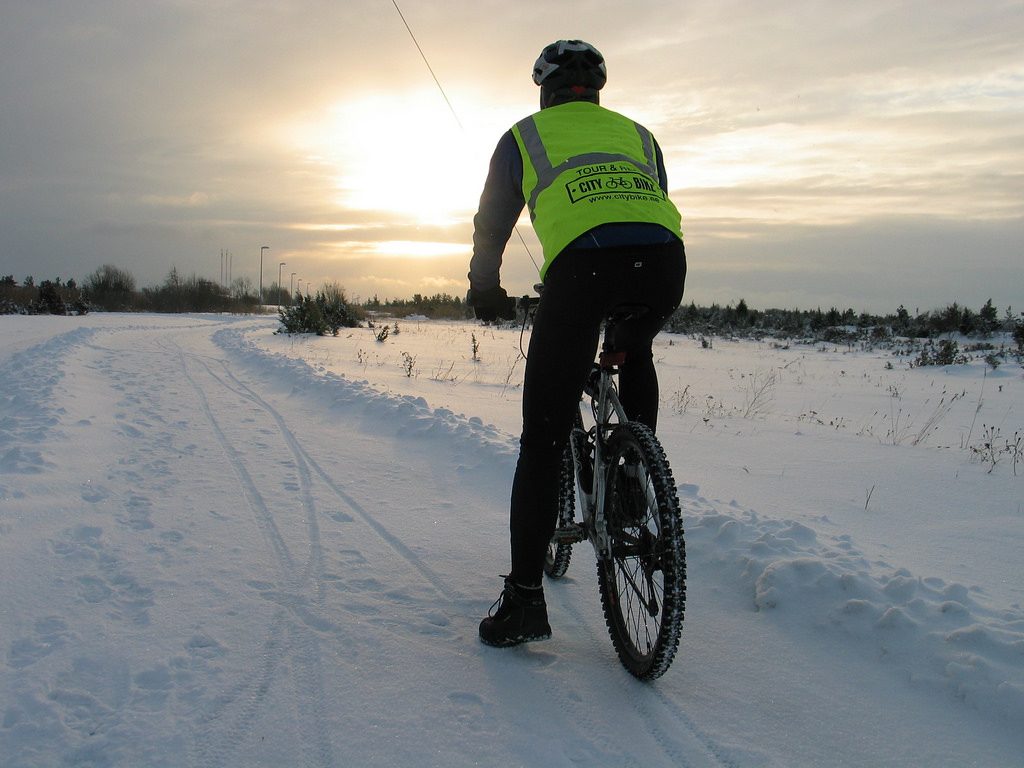 What to wear?
Three words: layers, layers layers.
Starting from the ground up:
Shoes – waterproof and warm
Thermal socks
Thermal Trousers underneath regular trousers
Base-layer (breathable is better as you need to avoid sweating)
Waterproof jacket
Good, thick gloves
Scarf (covers your neck and mouth if necessary)
Hat that covers your ears
Buff (comes in handy)
Missing something? We know someone who can hook you up with any additional gear you need. Just keep reading.
Where to ride?
Keep an eye out for our "5 best bicycle rides in Tallinn" resource, coming out very soon.
In the meantime, there are several areas I would recommend:
The Old Town – very quiet in winter so there will be fewer crowds. No need for a map here, just follow your nose and see where your ride takes you.
Anywhere green on the map – Kadriorg is a great place to start
Cycle by the Sea – follow a route similar to this and you wont be dissapointed
E-mail me at hiddentallinn@gmail.com for more ideas and stay tuned to Hidden Tallinn for our more great bike rides coming soon
What to ride?
Over to you City Bike.
These are the guys who can make it happen. Open every day from 1000-1700, whatever the weather, they have all the gear you need to explore Tallinn by bicycle in the winter. They also run daily cycle tours at 1100 that can be tailored to the wishes of the group, depending on size.
Prices are as follows:
Bike rent (city, MTB, trekking)
1-3 hrs – 7 EUR
6hrs -12 EUR
24 hrs – 15 EUR.
Fat bike rent
1-3 hrs – 15 EUR
6 hrs  is 20 EUR
24 hrs is 26 EUR
Lock and helmet are included in the rental price. Gloves, hats, puffs, lights are also free. (See what I mean about extra gear – these guys are the experts!)
Wait a minute, did I read that right? A fat bike? What is that?
*ahem*
Presenting… the fat bike.
This is the reason why you should cycle in an Estonian winter; just for a chance to ride this beast.
City Bike are really helpful and responsive so if you need any more information, just contact them at mail@citybike.ee or read more on their website: "Winter Riding is Awesome"