Once upon a time in a mystical land called Kopli one intrepid traveller decided to take a walk with his camera.
Deeper and deeper into this dangerous district he delved, documenting the darker side of Tallinn.
Upon his safe return, he decided he would share his epic journey with the world.
These images offer a collective snapshot of this rapidly developing district. Some of the structures pictured here have already disappeared, others are destined for demolition.
In episode one of the 'Forgotten Tallinn Series' we looked at the story of Kopli; in episode two we will add meat to the bones by showcasing some of the quintessential Kopli sights.
So, without further ado, let's take a walk…
'Standard' Building
The first stop on our tour is the legendary 'Standard' Building at Kopli 25.
This former furniture factory is a beautifully preserved specimen of that unmistakable 'concrete rectangle' style Soviet Union.
In true hipster fashion, this drab and dreary block has morphed from 'ugly' to 'sexy' becoming a hub of new businesses.
Its bold 'Standard' sign is perhaps the perfect slogan for the Kopi skyline.
Train Lines
Railway lines criss-cross the landscape linking up the various factories and shipyards.
Kopli is a district built on industry and these steel lines serve as a constant visual reminder of that fact.
Abandoned Water Tower
Search down any side street and you will be greeted by something interesting. This water tower does have a story, I'm sure, but so far, it has eluded me.
Kopli 'Street Art'
Small simple sketches are liberally dotted throughout the Kopli neighbourhood. Not quite up to the standard of the multi-story murals of Telliskivi but they do add a quirky splash of light relief.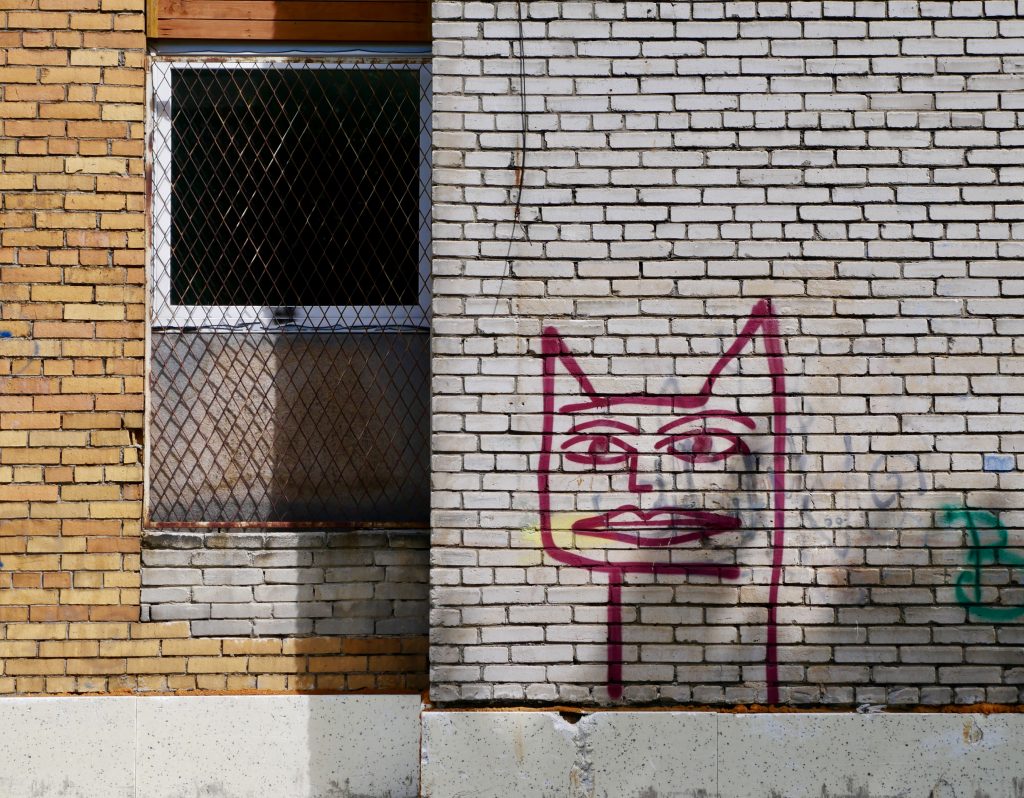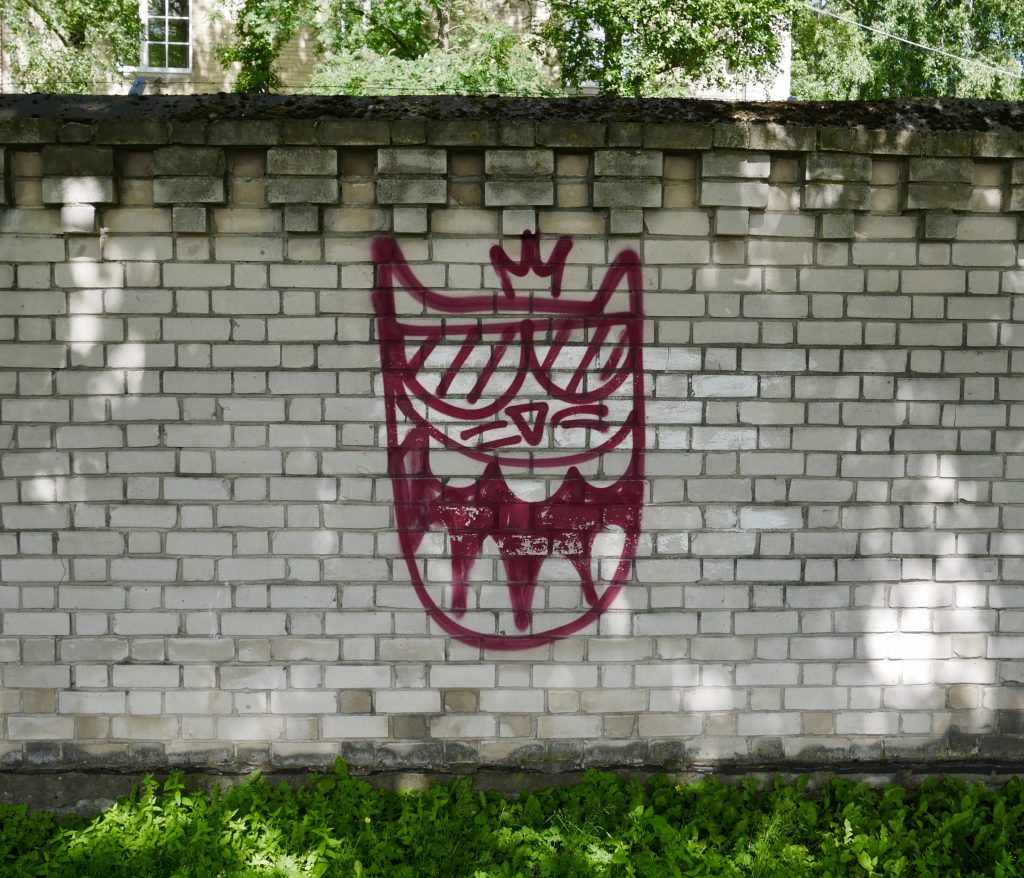 Sitsi Factory
This old cotton factory used to mark the boundary of developed Tallinn. In the early 20th century everything beyond this complex was a forest.
Today, several businesses operate around this imposing beast but the factory buildings themselves are largely abandoned, begging to be explored.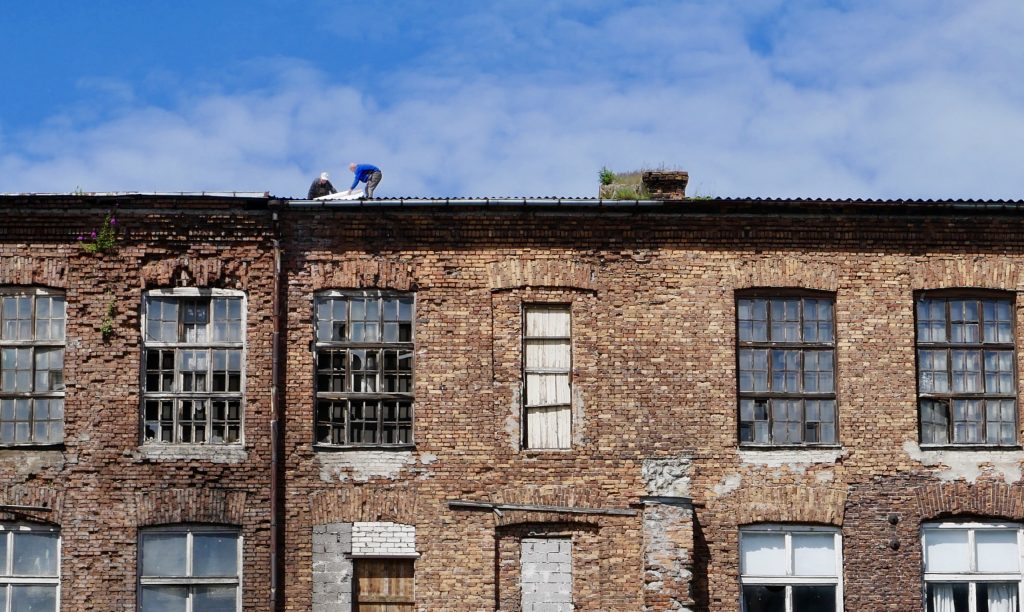 Wooden Houses
In recent years, neighbourhoods of quaint wooden houses have become increasingly desirable (just ask anyone trying to rent an apartment in Kalamaja).
Although still considered a 'dodgy area', Kopli contains large numbers of these brightly painted cosy homes. As Kalamaja property prices rise, people will undoubtedly look to Kopli in the coming years.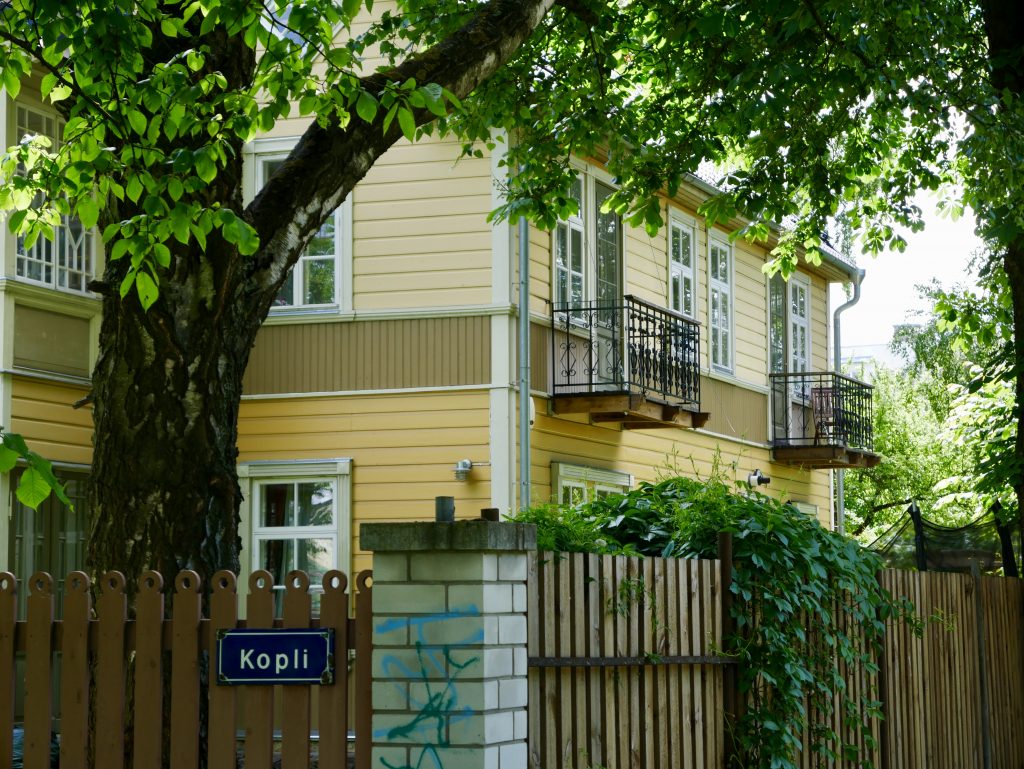 Greenery
Despite the fact that Kopli is an industrial district, there are still large expanses of vastly under-appreciated nature. Forested areas and parks fill in the gaps between wooden houses and factories giving Kopli a relatively high proportion of green space.
Bekker Shipyard and Water Tower
One of the key construction projects that gave birth to the district of Kopli. The shipyard is still in use today but the accompanying water tower is abandoned; a dramatic beacon looming large above the surrounding wooden houses.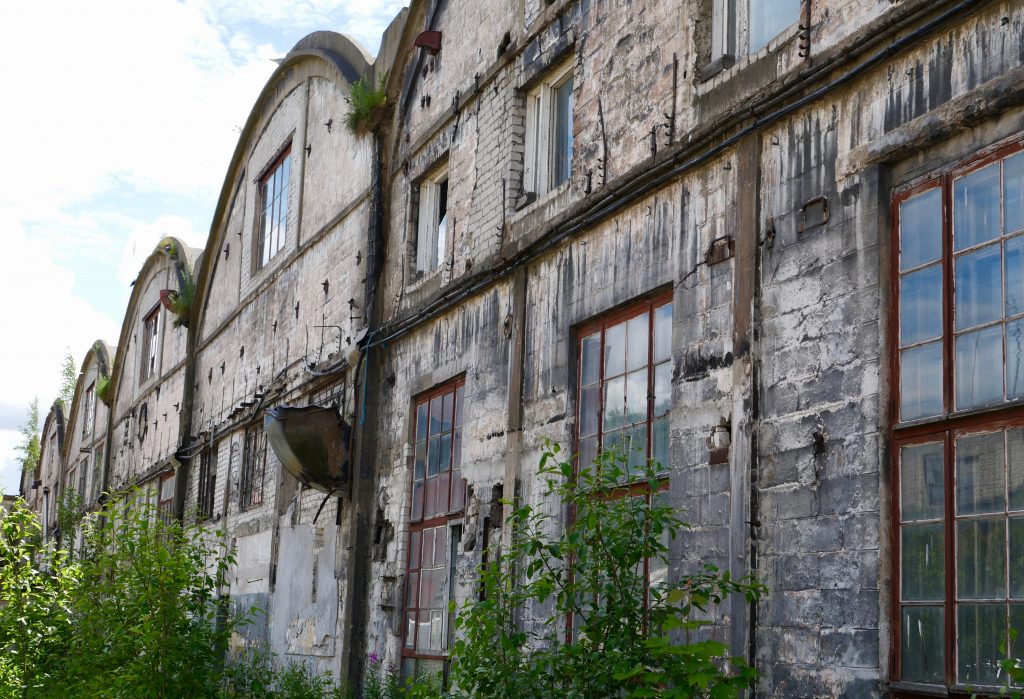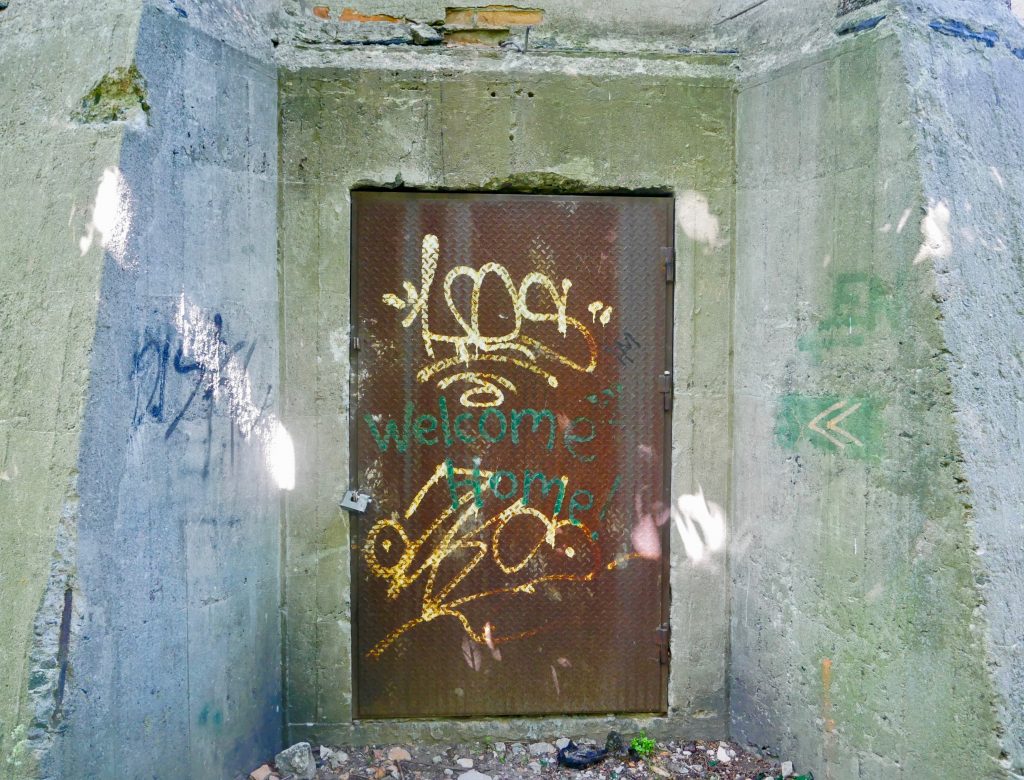 Derelict Police Station
It is difficult to imagine that this dilapidated, fire-scorched, rectangular wooden shell was once at the centre of a tight-knit working class community but it is true: this was once the local police station.
In other incarnations it was also a pharmacy, office space and, until surprisingly recently, an apartment.
Russo-Baltic Shipyard, Main Factory Building
For the first half of the twentieth century this was the main headquarters of the Russo-Baltic Shipyard.
It is, by far, the grandest building in Kopli and there is no surprise that such a structure has survived until the present day.
Currently, it is occupied by the Estonian Maritime Academy.
Professors' Village
The original settlement of the Russo Baltic Shipyard (built in the 1910s) was divided into two parts.
One part is the so-called 'Professors' Village', the home of factory officials, management and engineers.
The beautiful houses in this area are preserved in mint-condition and have been protected by the city as important parts of Tallinn heritage.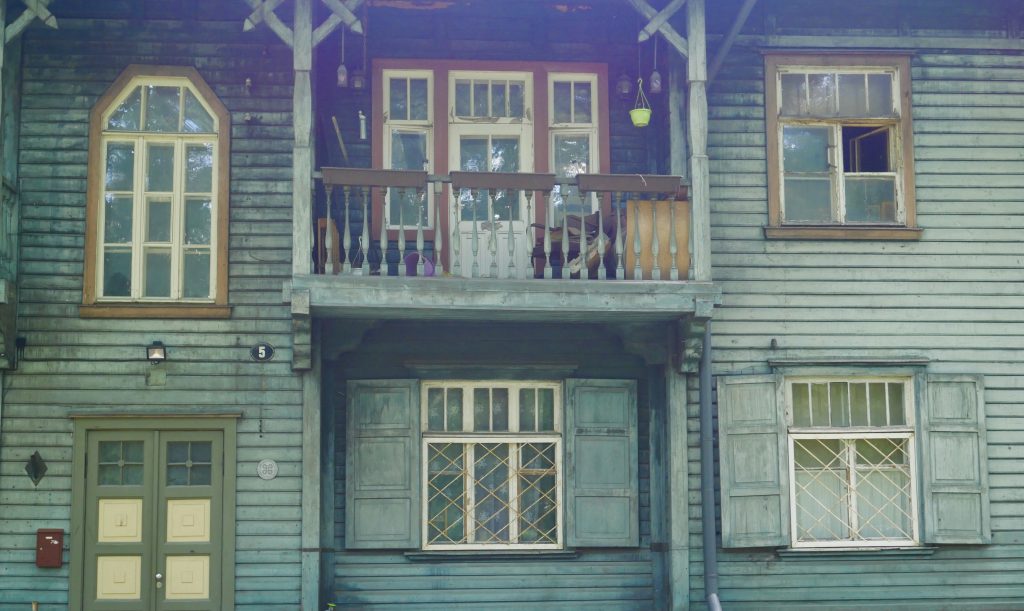 Kopli Lines
Built at the same time as the 'Professors' Village', Kopli Lines have suffered a very different fate.
Burnt, crumbling, plagued by social problems and rich with crime, this neighbourhood has become victim of long term neglect. From its high-point as a communally close working class settlement in the 1930s there has been a steady decline in the fortunes of "the Lines".
The wrecking ball is calling.
In episode three we will tell the story of Kopli Lines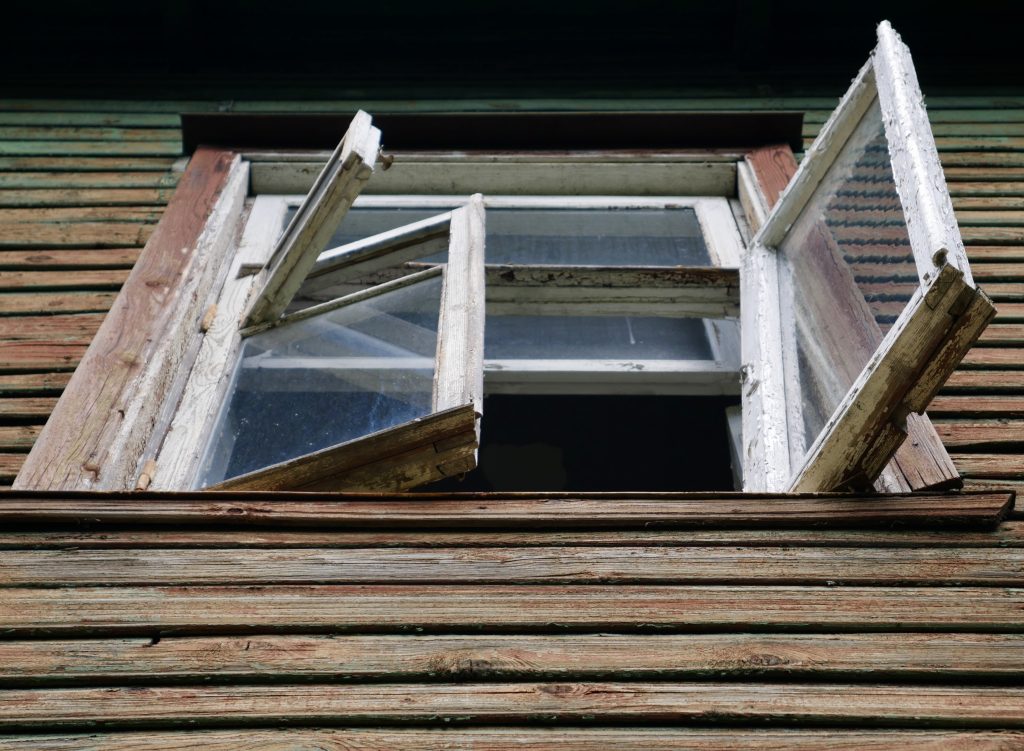 Forgotten Tallinn Series so far:
---
Thanks for taking the time to visit Hidden Tallinn.
As always, I love hearing from you, so comment down below and tell me what you think of this Forgotten Tallinn series so far!
Are you learning anything new about Tallinn? Are there any more forgotten areas that you'd like me to look into?