Twelve years of knowledge and experience, in one place. Here is my Ultimate Tallinn Travel Guide.
Discovering Estonia for myself has been one of the greatest personal journeys I have ever embarked upon. Nearly a full decade later and I'm still exploring and finding new, exciting surprises.
I built this website to share my passion with you.
Whether you love abandoned buildings, ghost stories, forgotten neighbourhoods, quirky stories from the historical archives or you're just looking for free WIFI, Hidden Tallinn has got you covered.
If you are the kind of traveller who likes to do things differently, explore with an open mind and swap out generic experiences for adventure, then you're in the right place.
Welcome to Hidden Tallinn: your adventure starts here!
---
Tallinn Trivia
Here are some basic facts that might come in handy if you're a school teacher, a lover of generic facts or if you've never Googled "Tallinn" before.
Generic Tallinn facts:
Population: 426,538 (as of 1st January 2017)

Location: Northern Coast of Estonia, 80km south of Helsinki

Language: Estonian (English and Russian widely spoken)

Currency: Euro
Still with me?
Demographics: Estonians – 53% , Russians – 36 %, Ukrainians – 3%, Other – 8%

Weather:

Summer – pleasant, warm (18-25°C avg. 30°C highs), some thunderstorms

Winter – bloomin' cold (0°C, -10°C, -20°C and maybe even -30°C. Yeah, bring your coat). It's beautiful though (forests covered in thick snow, the frozen Baltic Sea and cozy bars/cafés). There are fewer tourists, which mean a more authentic and adventurous travel experience

Geology – OK, now I'm going too far. If you're still with me and you're loving these facts, the guys at Wikipedia have got you covered
---
Cool Facts that you may not know
Now it's time for the cool stuff. Here are a few facts that you can use to impress your fellow travellers when you arrive.
There's a Sean Connery Statue hidden in the Old Town

Tallinn walks with a limp. The city has a long leg and a short leg (both are street names)

Once upon a time, the world's tallest building resided in Tallinn

Estonia's annual tourism numbers are larger than it's population (one of the few countries in the world where this happens)

Public transport is free… for locals (all the more reason to come and live here!)

Singing is a big deal (Check out the Singing Revolution, National Song Festival, Estonia's obsession with Eurovision and the largest collection of folk songs in the world)
Wearing reflectors is a legal requirement in winter
---
The Old Town
This UNESCO Heritage site will undoubtedly draw the vast majority of the crowds. Although the character of the Old Town has changed since I first laid eyes upon it in 2009 there is no question that it is still one of the most beautiful medieval towns in all of Europe.
Ditch the map, grab your your camera, look around at night and embrace the lost art of exploration. Getting lost among the old cobbled lanes is the ideal way to absorb the atmosphere of Tallinn's medieval core.
That is the advice I would give to a regular Old Town tourist, but you're not a regular tourist? If you want to discover the "hidden history" of the Old Town, how about trying to find some myths and legends?
Myths, Legends and Ghosts
Now you're talking! The Old Town is undoubtedly beautiful but us travellers are not that shallow, we want to get to know the Old Town for who she really is.
In 2011, I wrote this…
"Tallinn's beauty is not only skin deep; there is a 'hidden history' running parallel to the physical realm of medieval churches and cafe culture. This history is not based on archives and artefacts, but on a more romantic premise of storytelling and word of mouth. Tallinn is a city built on folklore and for those keen enough to explore and delve into this 'hidden history', the rewards are numerous. Leave the guide book at home, this is the real Hidden Tallinn."
Couldn't have put it better myself.
How to discover the Myths and Legends of Tallinn Old Town:
Let me tell you the stories – Hidden Tallinn Walking Tour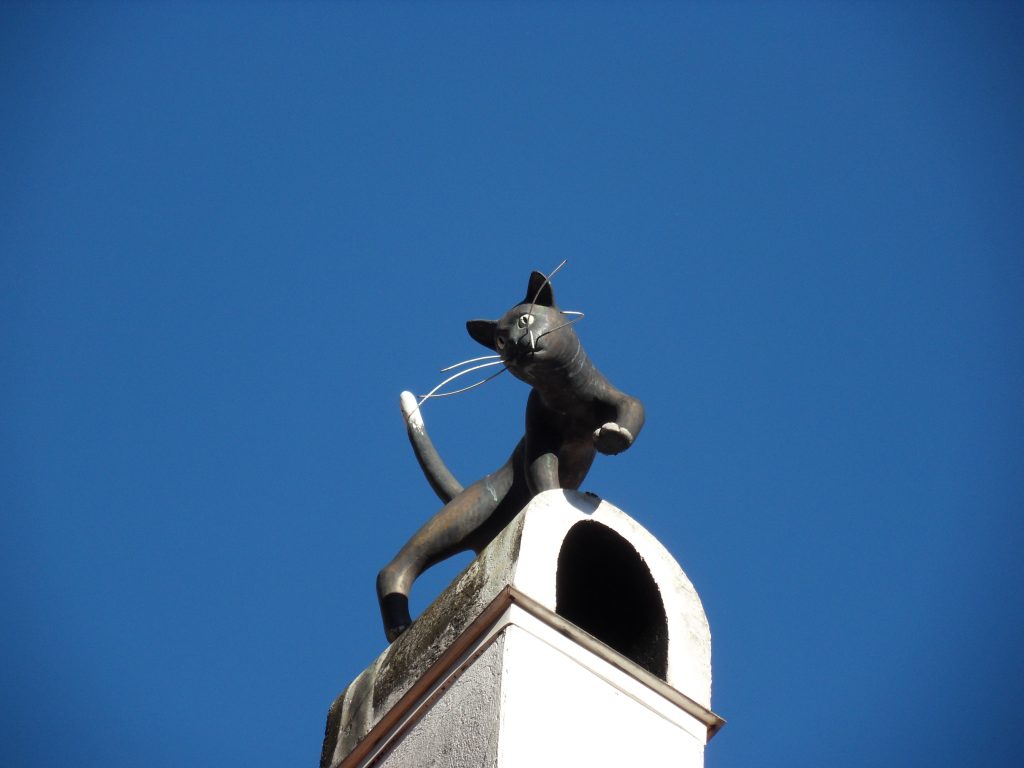 ---
The Neighbourhoods of Tallinn
Kalamaja
Currently the hippest neighbourhood in Tallinn. Wooden houses, cafés and cool people give Kalamaja a neighbourly vibe.
In its early days this district was actually the centre of a fishing community (the word Kalamaja literally translates to "Fish House"). Fishmongers, markets and boat-building enterprises dominated the area. Houses were built from the most abundant natural resource: wood from the forest.
Features
Wooden Houses

Hipsters

Cafés, restaurants and craft beer

Me, often

Abandoned Buildings

Street Art
Reasons to visit
Telliskivi Creative City

Patarei (currently closed but you can still walk along the promenade and see the outside of the building for yourself, or you can read about it here)

Seaplane Harbour

Occasional Craft Beer and Street Food Festivals

Cheap, delicious food
Kopli
A hundred years ago this district was a forest. Three giant shipyards brought industry and workers to this peninsula in Põhja-Tallinn (North Tallinn).
Neglect has lead to social problems. kopli has a pretty negative reputation.
The future looks bright though as Kopl looks set to become the new 'hip' area of Tallinn within the next decade. Right now, this district is in a state of flux.
The full story of Kopli is fascinating. This district was also the first to feature in my 'Forgotten Tallinn Series'.
Features
Shipyards

Wooden Houses

Abandoned Buildings

Local drunks

Military Structures

Local Bars

Derelict Houses
Reasons to visit
Stroomi

Park/Nature (Tervisajad)

The Vibe

"The Lines"

Emerging hipster culture (e.g. Kopli Restoran, Bekkeri Bakery, etc…)

Professors' Village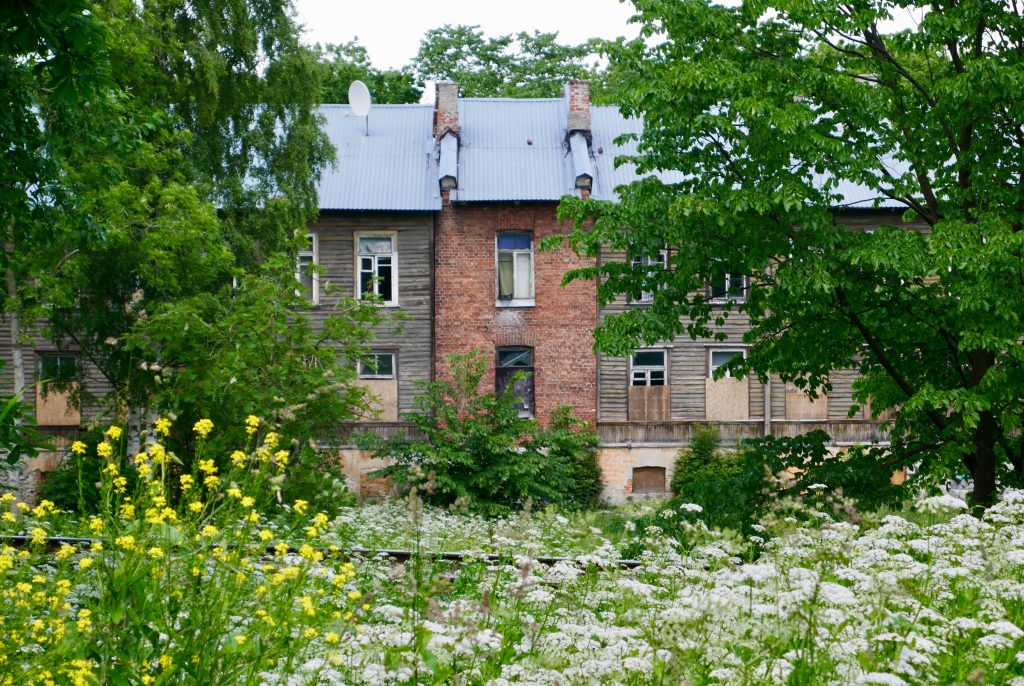 Pirita
One of the largest and wealthiest neighbourhoods in Tallinn. Despite its size, it has one of the smallest populations which means that there is plenty of nature in Pirita. Forests, beaches, a meandering river and several walking trails.
Residents of Pirita usually live in stand-alone private houses. Yeah, these dudes are pretty rich.
Highlights
Pirita Beach

Botanic Gardens

World War Two Memorial

Coastal Bike Path
Kadriorg
Centred around Kadriorg Park, the buildings here tend to have a very grand, decedent facade. It's no surprise that the president lives here.
Around the park, there are some quaint interesting neighbourhoods and the sea is very close!
Highlights
Kadriorg Park (look out for the Festival of Lights in September)

Presidents' Palace (check out the stone-faced guards that wait outside the door twenty four hours a day)

Russalka

KUMU Art Museum

Song Festival Grounds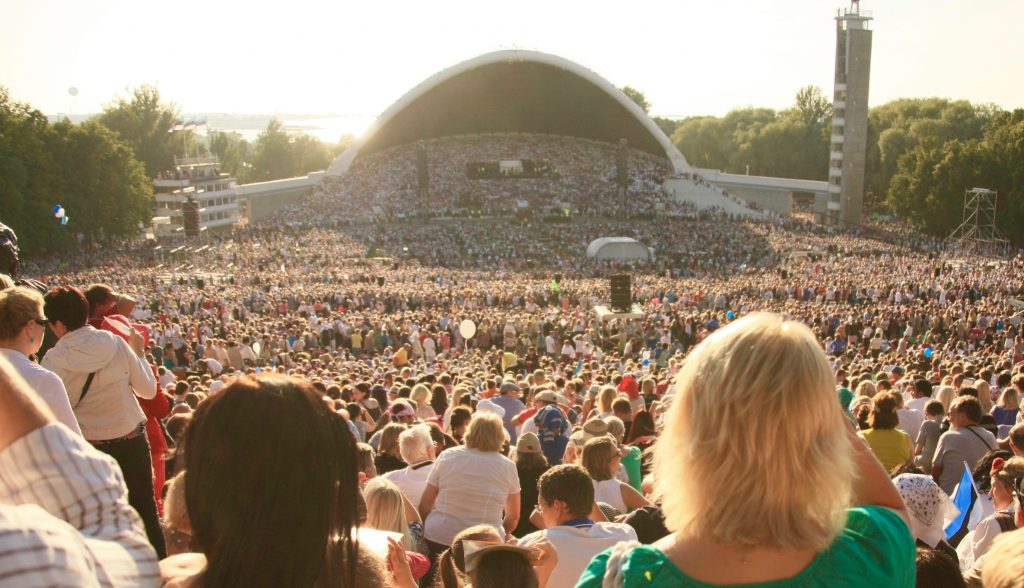 HONOURABLE MENTIONS
NÕMME : once a village, became absorbed into Tallinn, forested community, large gardens, detached houses, historical centre with farmers market
HABERSTI : check out the Open Air Museum, Zoo (if you like seeing mistreated animals out of their natural habitat), Käkumae Beach and Rocca al Maare. Also a great place to come for a bike ride.
LASNAMÄE : another forgotten district, most highly-populated district, high proportion of Russian speakers, Soviet-style apartment blocks, known as the 'bedroom community', after years of financial neglect, investment has started to flow into Lasnamäe

MUSTAMÄE : mainly residential, second largest population of all other districts, apartment blocks dominate much of the landscape, pockets of green scattered around
UUS MAALIM : community vibes, sometimes referred to as the "hippie district", cool place to hangout, street festival in September.
---
Abandoned Estonia
Tallinn is an urban explorers' paradise. As economies shift, regimes crumble and people are emancipated, the scars of the past are revealed. Tallinn is littered with abandoned places: factories, wooden houses, obsolete infrastructure and institutions of brutality.
All of these relics reveal a different side of Tallinn's story. You can go and read a historical account or peruse through a museum, but this history is visceral, palpable, tangible. Don't just read about the collapse of the Soviet Union, come and explore the remnants. Breath in the dust-filled air, soak in the eerie silence and absorb the musky atmosphere.
Urban exploration is for those travellers with a real sense of adventure.
8 Abandoned Places to explore in and around Tallinn
Exploring the Abandoned Volta Factory
---
Soviet Shadow
The most harrowing period of recent decades was the second Soviet occupation after 1944 which saw the arrest, execution and deportation of tens of thousands of civilians. These events haunt Estonians to this very day and linger long in the memory of the nation.
Despite the great sense of optimism and ambition that drives Estonia forward into the twenty-first century, the period of Soviet occupation cannot be easily erased and Tallinn still bears the scars of this terrible time.
Today, the remnants of Soviet times lie dormant – almost as if they are part of a museum exhibition – but it is important to remember that they represent a very dark time not just for Estonia, but for Eastern Europe in general and must be treated with the appropriate respect.
Patarei Prison and Patarei Re-Visited
Soviet Statues – Abandoned and Unloved
---
e-Estonia and Re-development
Tallinn is changing faster than at any point in its history.
Most people know that Estonia is embracing the internet age and has become one of the most tech-savvy countries in Europe, but the extent of the progress is staggering:
Start-up Scene: Skype and Transferwise both began their journeys in Estonia

The government is paper-free

One of the most efficient online tax systems in the world

e-Residency is re-defining citizenship in the 21st century

First country to vote online

Free public WIFI in many spots across Tallinn

Kids are taught to program
As for Tallinn's unquenchable thirst for construction, the legend of the old man of the lake says that if Tallinn is ever complete, the waters of Lake Ülemiste will rise up and flood the city so it can begin again.
The citizens of Tallinn appear to be taking this threat literally as there are countless construction projects throughout the city. Roads are being widened, apartments are sprouting like mushrooms in the forest, shopping malls are taking shape, cycle paths are being laid and previously derelict areas are on the hitlist for this giant restoration project.
Tallinn is changing day-by-day. Cranes dominate the horizon and pneumatic drills echo across the land as this city continues its unrelenting march into the 21st century.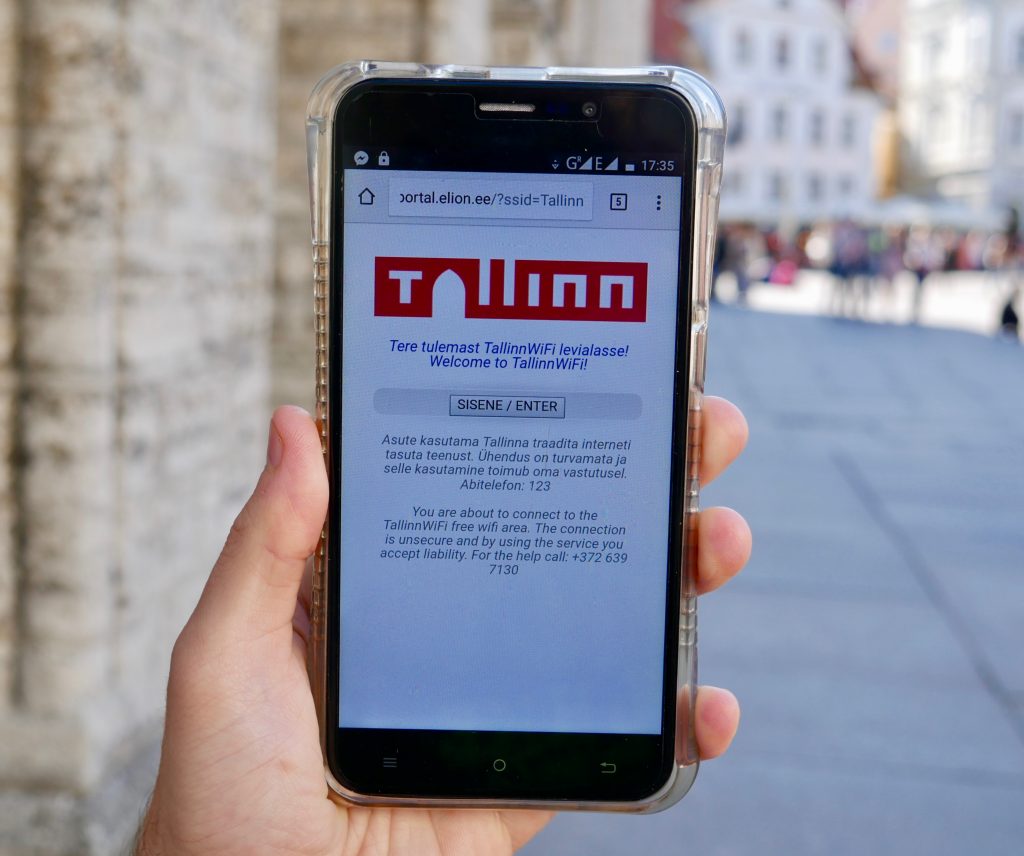 ---
Food and Drink
This is a HUGE topic that could easily form the basis of another "ultimate guide" but here are the basics.
For now, I will share some of the best resources from around the internet to help you discover the thriving (and often underestimated) food scene in Tallinn for yourself.
Here a few of my personal favourites…
A few of my favourite places to eat and drink – Aed and V (for a nice evening out, maybe a celebration), F-Hoone, Burger Box, Noodle Box and Kaja Pizza for delicious, well priced lunches and dinners, Speakeasy, Puudel and Koht for beer, NOP is an amazing all-round establishment for high quality lunches, dinners and coffee, Paar Veini for wine and a good party… and any café on Müürivahe Street for great coffee (and a great places to work).
Need any more help finding your perfect meal? Contact me here.
Going Out
Sauna Street is a great place to start in the Old Town. Plenty of bars to choose from. Be spontaneous and see where the night takes you! For a more chilled out vibes, head to Telliskivi.
Spirits – try Vana Tallinn (a friend of mine once advised mixing it with champagne. I don't know if this is a traditional Estonian method, but it didn't end well. You have been warned!)
Vodka – best consumed with locals. Excellent friendship-forming beverage.
Don't forget Estonian craft beer!
---
Cycling and the Great Outdoors
My absolute favourite way to explore Tallinn is via a bicycle.
You can rent them yourself from City Bike, or, if you're crazy, you can Cycle to Estonia
As for routes, I wrote a post detailing the 5 best routes but for a more extensive user-driven list BikeMap is another excellent resource.
…or, you know, just ride and let your inquisitive spirit guide you!
Snow and ice blanketing the city? Never fear – here is the The Adventurers' Guide to Winter Cycling in Tallinn
If hiking, camping and the great outdoors are more your style, check out the guys at RMK for trails, information and free campsites.
---
Day Trips
This is definitely a topic to delve into in a more extensive blog post, but I can offer you a list of my top picks for great days out.
Tartu

Pärnu

Haapsalu

Narva and Eastern Estonia

Aegna Island

Naissaar Island

Lahemaa National Park

Helsinki

Paldiski

Waterfalls
I am aware that this is a very brief list. If you have any questions about logistics, if you require more information or if you want more ideas (and yes, I do have more) please feel free to contact me here.
---
Finally, if you would like to see more and dig a little deeper, why not meet with me for a personalised Hidden Tallinn Walking Tour? Discover the secret stories of the Old Town in a small, private group, chosen by you.
Phew! Over 2,000 words later and we have reached the end of our Ultimate Guide to Tallinn. Did I miss anything out? Do you have any special local tips that didn't make it into the guide?
Write them in the comments below so other travellers can be inspired to explore Tallinn in a more adventurous way!
Happy travels!