There is no better way to explore Tallinn than on two wheels. Cycling offers the kind of flexibility, freedom and fun that motorised transport simply cannot. Hidden side-streets, secret forest paths and enticing neighbourhoods all become accessible when you venture out on a bicycle.
---
Cycling in Tallinn: is it safe?
Yes. Despite the reputation of some Estonian drivers, cycling in Tallinn is perfectly safe. There are plenty of bicycle paths and on occasions where they are not present it is entirely acceptable (and indeed, encouraged) to cycle on the pavement.
Now we have eliminated that excuse, let's get riding!
Renting a bike in Tallinn
City Bike – the best-reviewed and most popular in town
Waypoint Travels – newer, good prices, maps, etc…
Meet some Estonians! Maybe someone will lend you a bike
So, you have your bike, your map and your camera: now where do you go? What are the best areas in Tallinn to discover by bicycle?
1) Ride to the TV Tower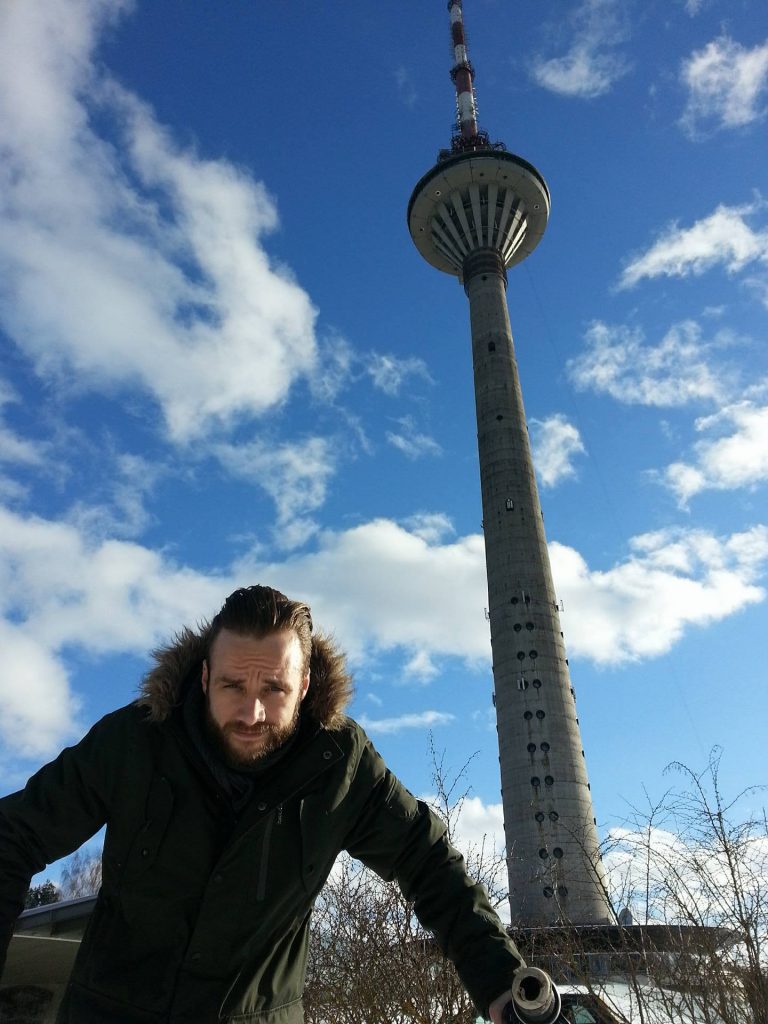 This ride links the modern centre of Tallinn to a phenomenal coastal bike path and the dense green Pirita forest: three for the price of one, you might say. Cycling to the TV Tower is the perfect way to discover just how close the city centre is to the peaceful tranquility of nature. This is one of my favourite rides in Tallinn. If you only have time for one ride, this would be the one I'd recommend.
There are plenty of interesting places to stop on the way but it is equally pleasant to sit back and enjoy the changing scenery on this 12km round trip.
The Route (Cutting through Kadriorg is also an option for a slightly more meandering ride)
Look out for:
Song Festival Grounds
Soviet Statues/War Memorial
Pirita Beach
TV Tower
2) The Cultural Kilometre
Built in 2011, this 2.2km cycle path will take you on a self-guided tour through the changing faces of post-industrial Tallinn. The cultural kilometre is a living museum offering a glimpses of buildings in various stages of regeneration. Patarei Prison with its dark, nightmare-esque corridors is of stark contrast to the shining new Tallinn Creative Hub (a.k.a Kultuurikatel: a former power plant morphed into a centre for culture and art).
This ride is the shortest on this list but is the most densely packed. Each of the fascinating building salong the cultural kilometre has a different story to tell so you will want to slow done with this one. Take your time to stop and explore this unique area of town.
---
Look out for:
Kalamaja Cemetery (former cemetery flattened during Soviet rule in 1964 – now a park)
Seaplane Harbour: Maritime museum in a 500-year-old hanger with a submarine & a sunken ship from the 1560s.
3) Riding to 'the end of the line', Kopli
This ride is more about exploring a new neighbourhood than appreciating the beautiful scenery. In a decade (maybe less) this could be the latest 'hipster' area of Tallinn but right now it is in a state of severe decay and neglect. It is a rare opportunity to visit an area of a city that will soon change for good.
Be careful when exploring the 'lines' – the buildings are not safe and this is definitely a place to cycle through in the daylight hours. For those who like the thrill of getting off the beaten track, the ghostly atmosphere of Kopli will get your adrenaline pumping.
---
The Route (following the same route as the old Soviet-era trams that are now decommissioned)
Look out for:
Old factories
Disused rail lines
Abandoned water tower
Kopli Lines
4) Kakumäe Tee full loop
This is one for those who just like a long bike ride through a nice area. Most of this route is comprised of  purpose-built cycle paths so the surface is smooth. Nice ride through a very nice neighbourhood in western Tallinn.
---
The Route (Suggested starting line: Telliskivi for a coffee and a nice energising lunch. Finish in Freedom Square).
Points of Interest:
Open Air Museum (showcasing the country's rural architecture and way of life)
Tallinn Zoo
Rocca Al Mare – re-fuel if necessary
View of Naisaar Island (look right)
5) Pirita Health Track: Off-Road
Reconnect with nature as you cycle along this beautiful off-road trail. 7km in length, this thin ribbon of earth weaves its way through the forest, crosses the Pirita River and joins to form a complete circuit. Dotted beneath the shade of the gorgeous pine trees are numerous downhill bike tracks and outdoor gyms. Don't forget your camera as you may find that there's more than one photo opportunity!
---
The Route (Could be combined with the TV Tower ride: No.1. Mixing up on-road/off-road surfaces is a great way to create a memorable ride).